Living The Life Of The M5 Man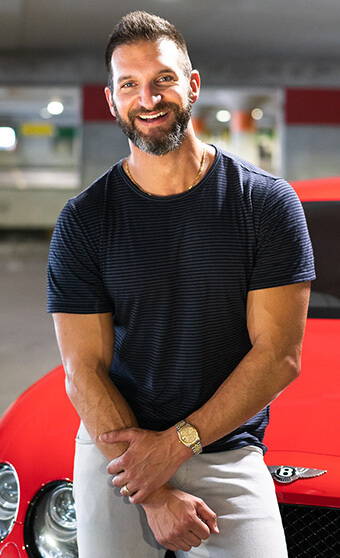 Vince Del Monte is known for...

Graduating from the University of Western with a Honours Kinesiology Degree and being a WBFF Pro Fitness Model…

Being an International best-selling author of books such as No-Nonsense Muscle Building, Living Large, etc…

Having millions of fans throughout Facebook, YouTube, and Instagram…

Creating The 5M Movement which is dedicated to helping men maximize the 5M's of manhood – muscle, mindset, money, mission, and marriage.

Leading his 7-Figure Mastermind clients, where he mentors 50+ online business owners, helping them scale their businesses to 7-figures a year.
Vince's journey began as an elite, long distance runner in college…

At just 6 foot tall and weighing in at 149 lbs, Vince was essentially the poster boy of the "I can't gain weight or get the girl" story. That's where he earned his nickname "Skinny Vinny," a name that stuck with him throughout college. It was during this time that Vince attended the University of Western Ontario where he received a Honors Kinesiology degree.
After college, Vince found a mentor who told him to "burn all of your fitness magazines and stop wasting money on supplements to gain weight." That's when Vince's life started to immediately change.
He realized building muscle isn't about "going to the gym and lifting things." It's about creating a program designed for your specific muscle fiber type. This changed the game for him, as Vince then went on to quickly gain 50+ pounds of muscle.
From here Vince began
his mission of teaching guys...

Across the world his methods, earning the nickname, "The Skinny Guy Savior" in the process. Vince then released Living Large, a book that shows skinny guys how to pack on over 30 lbs of lean, drug-free muscle in as little as 30 weeks.
Once the transformations
started pouring in...

Vince realized that his true purpose and passion was coaching other guys to build a rich and fulfilling life, INCLUDING the body of their dreams.
Vince wanted to show guys how to build muscle faster, achieve a winners mindset, increase their money and income, dominate their mission, and optimize their marriage and family life.
That's when the M5 Movement was born!
Along with his M5 apparel line, Vince also launched his 7-Figure Mastermind Coaching Program.
Every quarter, Vince and his 50+ coaching clients meet up in a new location around North America - where he brings together some of the top industry influencers to discuss networking, marketing and sales skills, and the most effective strategies that are working NOW... to build and sustain a 6-7 figure business.
One of the aspects Vince holds closest to his heart is his family.

Him and his wife, Flavia, have 3 incredible children!